http://www.irregularwebcomic.net/664.html
Irregular Webcomic! #664 Rerun
post a comment
---
http://feedproxy.google.com/~r/Lesliebard/~3/Bp-Wc6-myVA/theyve-always-been-like-that.html
by Leslie Fish
First, let it be understood that "Arab" is not a race – no matter what clever propagandists may tell you.
Along with the usual Semitic/Mediterranen types, there are also tribes of Arabs who have creamy-pale skins, red or blond hair, and blue or green or hazel eyes.
There are also tribes of Arabs who are distinctly Black.
"Arab" is not a religion, either.
There are (or were until recently) Christian Arabs in Lebanon, Pagan Arabs in the Kurd provinces, And even Jewish Arabs near what used to be Babylon.
"Arab" is not even a language, or language family.
Folk in the middle-east speak more than Arabic;
there's Urdu and Pashti, for example, not to mention the north African languages.
What "Arab" really means is a particular culture.
This culture spreads throughout the middle-east, westward across north Africa, and eastward as far as Afghanistan and Pakistan.
Though it shares various features with its neighboring societies, it's readily recognizable and distinct from them.
Chief among its distinct characteristics are its constant attitude of self-righteous victimhood, its eager religious fanaticism, its related disbelief in objective reality, and its particularly vicious sexism.
Most scholars blame these on Islam, but in fact they existed long before Islam was invented;
the culture shaped the religion more than the religion shaped the culture.
Note particularly how cultural icons like veiling women's heads, female circumcision, and execution of women for mere suspicion of "adultery", are not commanded anywhere in the Koran.
So where did this peculiar cultural pattern come from?
The answer stretches back over 4000 years, which explains the common assumption that Arabs have "always been like this".
It goes back before the beginnings of literacy itself, which is why the evidence has been dug up by the archeologists more than historians.
The earliest writings, though, include accounts of earlier myths -- which contain tantalizing hints of an earlier culture which was far different.
What we have managed to learn in the last century is that the first civilizations were matriarchal.
Before about 4000 years ago, humans didn't realize that it was sex that caused pregnancy;
people thought that women made babies by themselves, by magic.
Therefore, the only bloodline was the mother's;
all inheritance of property or rank went through the mother's line.
From a "great mother" ancestor of a tribe, to a divine Great Mother of all humanity, to a Great Mother Goddess of all life were easy steps.
Artistic images of Great Mother Goddesses have been found all the way from Britain to Mongolia, Scandinavia to Africa, dating as far back as 25,000 years.
Between 4000 and 5000 years ago, it changed.
Humans learned, most likely from observing domesticated animals, that sex is necessary for breeding – therefore, males had a share in the next generation too.
How people reacted to this knowledge varied widely.
Some cultures moved smoothly toward ambiarchy, steadily giving men – and male gods – more social standing.
Others insisted on turning their societies upside down, elevating males above females and reversing the previous moralities;
where the matriarchies had been largely peaceful, increasing their wealth and influence with trade, the new patriarchies became fiercely warlike and imperialistic.
Over the course of nearly 2000 years, the warlike patriarchies conquered their neighbors and enforced their New World Order on most of Europe, Asia and north Africa.
The history of this conquest was brilliantly revealed and detailed in Merlin Stone's classic book, "When God Was A Woman".
Until about 30 years ago, archeologists assumed that the cultures which chose warlike patriarchy all came from the Aryan tribes along the northern tier of Europe and Asia;
Dr. Marja Gumbatas even traced the pernicious attitude to the Kurgan culture of eastern Russia.
Further diggings since then, however – including the famous Grave of the Amazon Queen found in western Mongolia – show that this wasn't the case.
The northern Aryan cultures were ambiarchal down into historical times.
The warlike patriarchies which swept down into Greece, Crete and Mycenae were "northern" only in relation to the Mediterranean, having come the long way around the Black Sea.
The warlike Aryans who swept into India around 1700 BCE were likewise "northern" only in relationship to India.
The Hyksos who conquered Egypt came primarily from the east.
It turns out that the real epicenter of warlike patriarchy was a place called Eridu, just east of the juncture of the Tigris and Euphrates rivers, in present-day Iran.
However subsequent capitals of empires shifted, the center of the warlike patriarchal culture was in the heart of the middle-east.
There it has remained to this day.
This explains much about Arab culture ever since.
First gods dethroned goddesses, then eliminated them altogether – culminating in the institution of a single all-ruling god who demanded his worshipers conquer/convert the world for him.
Women were progressively stripped of all social rights, ending as chattels – even regarded as soulless animals, who could be slaughtered at will.
War was valued higher than trade, to the point were trade came to be regarded as only a subtle form of warfare.
The need to justify the almost-frantic sexism in the face of facts led to the assumption that the laws of nature are not fixed – the foundation of science – but only the whim of the ruling god, who can change his mind if bribed with enough prayer, piety, and human sacrifices.
Likewise, when the world, and the facts, refuses to go one's way for all one's piety, it
must
be somebody else's fault – and thus the sense of outraged victimhood, which in turn justifies any action against that perceived somebody else.
Historically, all these elements where already present in Arab culture before Mohammed was born;
the religion he invented only gave them all a unifying excuse.
post a comment
---
http://feedproxy.google.com/~r/LookingForGroup/~3/9NKPZOSr2Rg/
http://www.lfgcomic.com/?post_type=comic&p=3987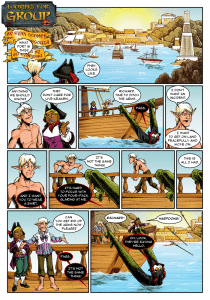 post a comment
---
To continue with the panel on "The Politics of Assessment," we next heard from Mike Curtis, from Arden, Delaware. Arden, in case you didn't know, is a Georgist community; it charges people who lease land there for (some of) the value of their land, and uses that to pay the local government's property tax (which falls on land and buildings). Mike Curtis talked about rent assessments in Arden. Assessors take an oath to assess full rental values. He found that the people on the Board didn't know what they were doing, and didn't care. They interpreted "full rental value" to mean the amount they wanted to collect.

Mike Curtis is a high school dropout (not that I would have realized it; he knows a good deal, and is articulate), and he was nervous at first, rubbing elbows with Arden Board members who have graduate degrees.

He talked about annualization of rent, etc. He talked about how he assessed land rent. There are different sizes of houses, with different numbers (house area, house value, land area, etc.). Assessments are supposed to be for the highest and best use, which does not necessarily mean the largest house. People might want a smaller house and a fair-sized yard.

To be continued . . .
post a comment
---
http://www.sjgames.com/ill/a/2013-12-12
Looking for holiday gifts for puzzle-minded folks? This gift guide at PuzzleNation has lots of stuff, including both Castellan and The Stars Are Right!

– Brian Engard

Warehouse 23 News: Just In Time For Christmas!

68 holiday-themed cards . . . everything from the first three Christmas boosters plus the 2012 booster . . . some promo cards never before available at retail . . . PLUS four new cards.

Munchkin Holiday Surprise also includes a special holiday Munchkin Kill-O-Meter and even more goodies for that munchkin in your life.

This set turns any basic Munchkin game into a holiday special . . . so the whole family can kill the monsters and take their stuff! post a comment


---
http://slatestarcodex.com/2013/12/12/papal-pr/
http://slatestarcodex.com/?p=1221
Congratulations are due to the Pope for being Time's Person of the Year. I would have voted for Snowden, but the Pope is a perfectly respectable choice. At least he's an individual human being and not a vague demographic or second-person pronoun.
I like Pope Francis. He seems to be kind-hearted, intelligent, and genuinely focused on helping the poor. When he expresses opinions, they tend to be ones I agree with, at least as much as is consistent with him still being Catholic. He's done a lot of substantive good work.
But that's not what anybody's focused on. And what they do focus on confuses me.
Suppose that people were to get super excited about President Obama wearing a US flag pin. "He's so patriotic! He even demonstrates his love for America on his clothing!" Or going to Arlington Cemetary on Memorial Day: "Look how much the sacrifice of American soldiers moves him!"
But really all this proves is that Obama isn't a total idiot. Wearing a flag pin is an easy way to signal patriotism, and if you're the President signaling patriotism is a free public opinion boost. In the same way, it's hard to imagine a self-interested President conceiving of the idea of going to Arlington Cemetery on Memorial Day and not acting on it. It would just be dumb.
Pope Francis does some pretty heart-warming things, like washing the feet of the poor and letting little kids sit in his Pope chair, abandoning his papal luxury palace for a humble apartment, and baptizing orphaned puppies (has he done this yet? I assume it's only a matter of time).
Thing is, I think of the counterfactual universe where I'm Pope, and having been made aware of the possibility of doing these things, it's hard to imagine not going through with them. For getting rid of the furniture made of solid gold that no sane person would even want, I can have the entire world talk about my humility. For two hours of my time and the cost of a foot-washing basin, I can be Time Person of the Year.
For me, the story isn't why Francis is so great, but why his predecessors didn't do stuff like this all the time. Yes, okay, Pope Benedict XVI gets creeped out by humans and he's not sure his immune matrix can handle their Earth germs. Fine. What were the other 264 guys' excuses? Why don't we get to hear about them secretly sneaking out of the Vatican to help the homeless in a way that makes it almost certain it would leak out (I'm not saying Pope Francis is really doing this, just that if he isn't it's probably because he didn't think of it in time)?
Maybe Francis is just the first Pope who understands PR. The past two Popes were born in the 1920s; maybe they never really figured out the Age of Mass Media. I doubt future Popes will make that mistake.
I am not accusing Pope Francis of being shady or Machiavellian (although Machiavelli's The Prince does in fact contain a whole chapter on advice for Popes). Just saying that if he were Machiavellian, he'd probably do pretty much what he's doing now.
post a comment
---
User:
telophase
Date:
2013-12-11 22:02
Subject:
Security:
Public
Good: the fake Christmas tree I ordered on Black Friday (Target was having a 50% off Christmas trees online sale) has finally arrived after a week of delay due to the weather and some unspecified incident at the receiving depot in Mesquite that occurred before the storm*.

Bad: I have had a migraine all day which is still sort of here, and as such have no volition to actually unpack and decorate it. Bah, humbug.




* On the 4th, the tracking info said it was in Mesquite, but "Due to local operation disruption, packages not unloaded from trailer, expect a one day business day delay." It was scanned and put into the system as having arrived on the 8th in Mesquite. Departed Mesquite and delivered today. I have no problems with the delay from the 8th-11th, as that's due to the storm, but that local operation disruption thing has me intrigued.

You can comment here or at the Dreamwidth crosspost.
comments at Dreamwidth.

2 comments | post a comment


---
http://esr.ibiblio.org/?p=5167
I did something unusual today. I pulled the plug on one of my own projects.
In Solving the CVS-lifting problem and Announcing cvs-fast-export I described how I accidentally ended up maintaining two different CVS-to-something-else exporters.
I finally got enough round tuits to put together two-thirds of the head-to-head comparison I've been meaning to do – that is, compare the import-stream output of cvs-fast-export to that of cvsps to see how they rate against each other. I wrote both git-stream output stages, so this was really a comparison of the analysis engines.
I wasn't surprised which program did a better job; I've read and modified both pieces of code, after all. Keith Packard's analysis engine, in cvs-fast-export, is noticeably more elegant and craftsmanlike than the equivalent in cvsps. (Well, duh. Yeah, that Keith Packard, the co-architect of X.)
What did surprise me was the magnitude of the quality difference once I could actually compare them head-to-head. Bletch. Turns out it's not a case of a good job versus mildly flaky, but of good job versus suckage.
The comparison, and what I discovered when I tried to patch cvsps to behave less badly, was so damning that I did something I don't remember ever having felt the need to do before. I shot one of my own projects through the head.
The wrong thing to do in this situation is to just let the bad code hang out there in the noosphere gradually bitrotting, with no maintainance and warnings to people who might stumble over it and think it's safe to use or salvageable. This is bad for the same reasons abandoning a physical building and letting it decay into a public hazard is bad,
Instead, I shipped a final archival release with an end-of-life notice, prominent warnings in the documentations about the Bad Things that are likely to happen if you try to use it, and a pointer to a better alternative.
This is the right thing to do. The responsible thing. Which I'm making a point of since I've too often seen people fall into doing the wrong thing – usually through embarassment at the prospect of admitting that they made a mistake or, possibly, can't meet the qualifications to finish what they started.
I'll say it straight up: I tried hard, but I can't fix cvsps. Peeling away the shims and kluges and junk just reveals more shims and kluges and junk. Well, in the repo-analysis code, anyway; there's another pieces, a partial CVS client for fetching metadata out of remote CVS repositories, that is rather good. It's why I kept trying to salvage the whole mess for about ten months longer than I should have.
What I think happened here is that the original author of cvsps did a fast, sloppy ad-hoc job that worked well enough for simple cases but never matured because he didn't encounter the less simple ones. Keith, on the other hand, did what I would do in like circumstances – thought the problem entirely through on an algorithmic level and nuked it flat. His code is solid.
One of the differences that makes is that Keith's code copes better when put under unanticipated stress, such as me coming along and sawing off the entire git-aware output back end to replace it with a stream-file emitter. But I digress. I'm not here today to talk about architecture, but about how to demolish your project with style.
Software is communication to other human beings as much, or more so, than it is communication to computers. As an open-source hacker, you are part of a craft community with a past and a future. If you care about your craft and your community, the end of a project leaves you with a duty to clean up after it so that it becomes a positive lesson to those who come after you, rather than a trap and attractive nuisance.
And now I'll get off my soapbox and go back to work. On cvs-fast-export. After this, making sure it has a really good test suite before I ship 1.0 seems even more important.
post a comment
---
http://www.shamusyoung.com/twentysidedtale/?p=21815
We usually do a little warm-up before the show. We talk for a bit and get our brains thinking about games. But about ten minutes into the warm-up we realized we were basically doing the show, so we started recording. No plan. No designated host. No timer. The result is two hours of rambling and confusion.
You're welcome.
post a comment
---
http://feedproxy.google.com/~r/SchlockRSS/~3/ISQufvlG-jk/2013-12-12
post a comment
---



http://feedproxy.google.com/~r/PlayerVersusDeveloper/~3/qjABqE7muT4/is-this-mmo-burnout.html

December has returned, bringing us to that introspective window for the end of the year. I think the term MMO Burnout is generally over-used and over-dramatized. However, looking back at the year gone by, it looks like that may have crept up on me after all. A few arguments for and against:

Things I have NOT done

LOTRO: This was the year I finally gave up on even the token effort to maintain the level cap and epic story.
FFXIV: This is arguably the best pure MMO to (re-)launch in the last two years, there's nothing I would change about the game... and it hasn't made it to the top of my playlist, causing me to stall out midway through the level curve.
GW2: Bought, barely played
TSW: Bought at the tail end of 2012, played a bit in early 2013 until the included VIP-time ran out
Rift, EQ2, DDO: New expansions, haven't done either
Things I have focused on:

SWTOR: Significant amounts of time subscribed here, including clearing the expansion on my main Trooper, finishing the class story for an Agent, and getting most of the way through a Sith Warrior. That said, I'm playing this game primarily for the single player-like story experience. I'd consider paying real money to trade the entire game in for an interactive movie where my character wins all the fights automatically and moves on to the next story scene, as I might actually like that product better.
Marvel Heroes: Pure action RPG here, I've spent more time helping to sleuth out the hero release schedule on this game's forums than I've spent on several of the above games.
League of Legends: Instant action MOBA
Hearthstone: Instant action card game
Overall, the trend appears to be towards instant action and gameplay experiences. While there is still some progression in all these things, it's very different from the traditional vertical progression model for an MMO.

Which brings us to the exception that proves the rule - I have spent significant amounts of time subscribed to and actually playing World of Warcraft. I did technically hit the level cap, and farmed all of the gear out of the first 2-3 tiers of raid finder. I also skipped the majority of the questing content in the expansion - and incidentally didn't even try to level until my lack of having leveled caused problems for my pet collecting efforts. In many ways, Azeroth is actually a lobby that I use to access the pet battling minigame, the farming minigame, and sometimes even the daily quest or random dungeon minigame. I'm arguably not using the game as an MMO.

Is this the new face of MMO burnout? Or am I just in a rut waiting for the hypothetical next big thing?
post a comment
---



I just turned of auto payments and my paid account will expire in a month but since I hardly post anymore it doesn't really matter.

3 comments | post a comment


---
When the radons are gone from the basement, I want bookshelves. I will put bookshelves down there. Then I will go find EVERY SINGLE MANGA BOOK IN THE HOUSE and I will take them downstairs. I will not worry if I've read them. I will not worry if spouse has read them. I will file them in alphabetical order by title.

I will look at all the books that have not been filed in the library. I will gather them together. I will put them in the basement. I may make a distinction between read and unread.

Then I want boxes. So many boxes. Archival boxes to put the comics in. Those, I may sort into Read/Unread. They will be alphabetical by series. I would like transparent plastic boxes but this may not be possible.

THEN I will need more boxes. Big boxes. Bins. I will sort All The Toys. They will go in the bins. Plastic bins. Some will be bundle-able up and we can give them to the Salvation Army or something. Some will go into storage. But they will be OUT OF THE LIVING ROOM.

We will see what the yarn will do.

But today... Today is not that day. Today, we have bought decongestants, and I have written like 2-4 paragraphs, and I am a plague rat. Kid is also pathetic plague rat, and stayed home from school again.

( Still to do, with minor incrementingCollapse )

Havva Quote
Unicorn: It is said that the beauty of unicorns is what makes the leaves change.
Kid: Who says that?
Unicorn: Mostly unicorns.
--http://www.gocomics.com/heavenly-nostrils/2013/09/22#.UqkIZyiN5SV


( INwatch+BookwatchCollapse )


( Dragons under foldCollapse )

( footer textCollapse )

4 comments | post a comment


---



http://www.somethingpositive.net/sp12092013.shtml

5 comments | post a comment


---
http://polyinthemedia.blogspot.com/2013/12/dan-savage-is-poly-queer.html
post a comment
---
Before I forget, tomorrow Earthrise is being featured at The Fussy Librarian, a site that does personalized ebook recommendations. It's got something like 40 genres; you indicate your preferences about content and then it figures out what you might like to buy. Sort of like Amazon's recommendation system, but just books. This is the thing I was talking about when I asked you folks to submit reviews of Earthrise because they only take books with at least 10 five-star reviews! Or 25 of at least 4-star. So thank you all for helping out. I'm going to submit more books to them once I get the necessary number of reviews. :)
Mirrored from MCAH Online.
post a comment
---



Note: I think I may have an overarching plot for both these stories.

Note 2: And the Princess finally has a name.

* * *

"Wait, so Miriam is the True Heir?" Princess Neffry said.

"So it would seem," the dragon agreed. "Stolen from the previous queen's beside after the birth of your father-in-law, kept Underhill where time passes more slowly, and released into the care of some not so loving foster parents."

Neffry rubbed her nose, trying to think. "All right. So she's the Queen, and the Sorceress. That's never a good combination."

"Can't I be the Hero again, or maybe the Good Witch?" Miriam said, looking miserable.

"It's all right dear," the dragon said comfortingly. "No one thinks you're evil."

"Not yet."

"Okay, so who stole Baby Miriam?" Neffry demanded. "It can't be the King, he'd have to have been one Machiavellian infant."

The dragon's son raised a claw cautiously. "Mom?"

"What, dearheart?"

"When the Fairy of the Old Tree had me, she said that some bits of Underhill work, uh, differently."

"'Working differently' is what Underhill is all about," Neffry said.

"I know, but I mean… ugh!" the little dragon turned around, chasing own tail briefly. "I mean, sometimes it doesn't just go slowly. Some places in it, it goes all the way backwards."

"Sooo…." The dragon mother looked thoughtful. "Fellow grows up the Spare instead of the Heir, goes to Underhill to move back in time, steals his big sister before she grows up, then moves to a different part of Underhill to wait until he's the Heir."

"Wait, wait, that doesn't work!" Neffry said. "Wouldn't you end up with two men, one the King and one still a prince?"

"It's magic, dear. Trying to figure out causality is just going to give you a headache."

1 comment | post a comment


---
post a comment
---



http://feedproxy.google.com/~r/LookingForGroup/~3/SalShTiQ1yI/

http://www.lfgcomic.com/?p=3937

First and foremost, a huge massive thank you to everyone who participated, supported and pledged to the Kickstarter. It means a great deal to us knowing you want these things as much as we do. At the end of the day, we weren't successful, for various reasons, none of which detract from the fact that […]

post a comment
---
(This is a repost from an entry I made 10 years ago, because it's a fun topic to revisit periodically, and a good way to discover new music.)
Music is a constant in my life. It's a rare day that I go through without listening to or making music in one form or another.
And it occurred to me on the way back from lunch with kitanzi this afternoon, as I cranked up a particular song, that there are some tunes that just never fail to make me happy.
Here are five of those songs, in no particular order:
Love Shack, B-52s
Sledgehammer, Peter Gabriel
Every Day I Write The Book, Elvis Costello
Got To Get You Into My Life, The Beatles
Linus and Lucy, Vince Guaraldi Trio
What are some songs that always leave you more cheerful than before? That make you dance in your seat? When you're down, what music do you turn to to pick yourself up? What songs make you instinctively reach for the volume control to crank it up?
Share in comments. 
Mirrored from Home of the Autographed Cat.

4 comments | post a comment


---